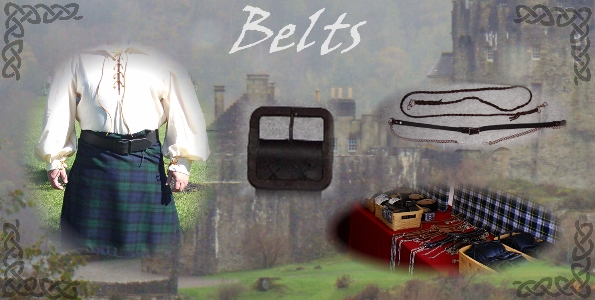 We carry 2 styles of belts, commercially made and hand made.
The commercially made belts come with a velcro adjustment and a polished chrome buckle. They come in 4" increments. If you aren't sure which size to order, give us your waist measurement in the comments section and we will pick the correct size.

The hand made belts are cut from full leather sides, punched and laced, all by hand (by us) with a forged iron buckle (not made by us) and in 4 widths. The smallest width is for the women's arisaidh and the 3 wider ones are for the men's kilts (our kilts will take up to a 3" wide belt). Supply your waist measurement in the comments section for the hand made belt and we will size it for you with some wiggle room as we aren't sizing in person. If you tear this belt up, I don't want to know what you were doing with it.